« Thatcher is Dead »
Summary:
The « Thatcher is Dead « project is centered around the press image, its stereotypes, brainwashing, and circulations through the media coverage of the death of the former British Prime Minister. I capitalize on this posthumous visual treatment and turn it aside by juxtaposing contemporary images according to a strict protocol of reappropriation of newspaper clippings. I seek indeed to obtain a two-sided image, a perfect collage in the grid of the newspaper that will offer an image in both sides. I then scan it as I do with a positive film.
These superimposed pictures constructed by chance encounters aim to create images difficult to read and slowed down, barely recognizable, «anti- dated », a "bitmap collage" taken from a medium that is said to be in crisis (the press but equally paper items) revealed by a proper analog photography system, which is also to be obsolete. They addi- tionnaly penetrate these press images arised from business strategies and challenge this frantic race to information and spectacular with a response between abstraction and "platitude". The death of Margaret Thatcher may well be seen as much as a disturbance as a catalyst in my work.
« Thatcher is Dead » was presented as my project for the Bachelor degree in photography at the University of Art and Design Lausanne, in June 2013, as a photobook and digital prints. It has recently been give a prize at the Swiss Federal Design Awards, organized annually by the Federal Office of Culture. I
Swiss Design Awards 2014
Swiss Design Awards June 17 - June 22 2014
Opening June 16 2014
Awards Ceremony June 17 2014, at 18 pm
Art Basel, Halle 4, Basel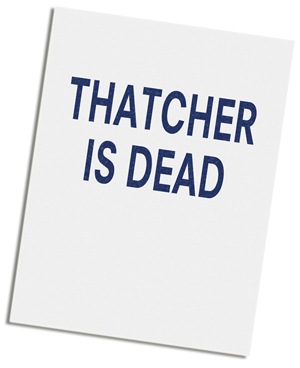 This publication is part of the Diploma
project's « Thatcher is Dead »
First Edition, June 2013